Meet Forum, a skill-sharing mobile app platform that allows people to share their talents and passions with the world.
Timeline: 2 Weeks, 80+ Hours
Role: Co-Product Designer, focus in UI
Partner: Loretta Mao, Co-Product Designer, focus in UX Research
Introduction
Everyone has a skill to share with the world.

Endless posts of sourdough loaves, hand-sewn crafts, and balcony garden projects flooded our feeds during the pandemic. During a time where we were forced to look within for entertainment, it seems many people finally had the opportunity to pursue their passion project or share a special skill with the world. With this presumed uptick in sharing knowledge, my design partner and I were inspired to consider how folks were sharing their skills digitally and how that experience could become more ideal.

We wanted to add some constraints to encourage us to be sharp about this project. We imagined ourselves as the start-up founders of Forum and our prototype deliverable would be for a concept launch. We developed a brand mission for Forum—our platform would create skill ecosystems that promote mutual development amongst users. Our ethos is to preserve a non-judgmental space, people should open the app and know they are here to learn and here to share, helping both parties become better individuals and achieve big goals. This project launched from the belief that everyone should feel empowered to show off and trade their knowledge. We wanted to understand what barriers might currently exist for skill-sharers in order to provide an accessible platform.

Research
What comes first: the sharer or the learner?


We began our research by laying down some of our assumptions. We thought people might want to engage in sharing skills in a reciprocal transaction—contributing in order to gain knowledge in return. Our research began by looking at some existing skill-swapping platforms and conducting a personal experiment of posting our own skills to offer. This experience put us in the driver's seat to observe thought processes and identify pain points and potential improvements, such as making the skill-sharer seem more reliable or making it easier for skill-sharers to promote and post their abilities.

Next, we conducted 1-on-1 user interviews with five individuals who are skilled in certain areas. We wanted to learn about their experience in sharing and potentially bartering skills. We also sent out a trading-focused survey to understand what, why, and how people trade.




Key Findings
From our interviews, we learned that people share their skills for diverse reasons, but learning a new skill in return was not among them. Our research showed a pattern: many folks share their skills with the intention to self-validate; sharing your expertise can be a great source of gaining confidence or testing the waters of a new career path. One particular participant described her emotional state around sharing her gardening skills during the pandemic:
︎︎︎"It gives me a sense of confidence. During this time with the pandemic, putting my career goals on pause because of the restrictions, it made me feel capable in other ways and I didn't have limitations on what I was capable of."
These insights allowed us to change course from where we previously stood when we envisioned a reciprocal relationship between users sharing and learning. Our participants also elaborated on pain points in previous skill-sharing experiences that we felt could be exciting to explore and address in our prototype.
We developed proto-personas for our product: sharers, learners, and users who engage in a reciprocal sharing-learning experience. Our research showed that those engaged in reciprocal sharing and learning are a bit of an outlier, which could explain why many existing skill-sharing platforms were a bit out of date and seemed to have low engagement.
To move forward, we decided to put on the shoes of the sharer because if we could motivate them to use our platform over existing solutions, we felt that we could still achieve our goal of creating a skill-sharing ecosystem.
Defining the Problem
We put on our persona's gardening gloves and examined her jobs-to-be-done.

Our persona, Claire, is based on the previously mentioned interviewee. By using a
jobs-to-be-done
methodology, we dissected the various
jobs
she might hire our platform to fulfill. At a minimum, she would need to share her skills. To that end, our interview helped us uncover some of the digital roadblocks she faced while sharing her balcony gardening class on Instagram and Google Docs. Our platform would have to enable her to interact seamlessly with the people reaching out to her for further advice to avoid redundant questions in her inbox. She would also need flexibility in how she portrays the lesson—so multimedia content was a must. We also considered how her content could be streamlined on her profile to make her sharing more efficient and easier for her audience to find. Lastly, it was important to remember how validation came into play from our interviews, so a way to receive feedback or donations could also be considered.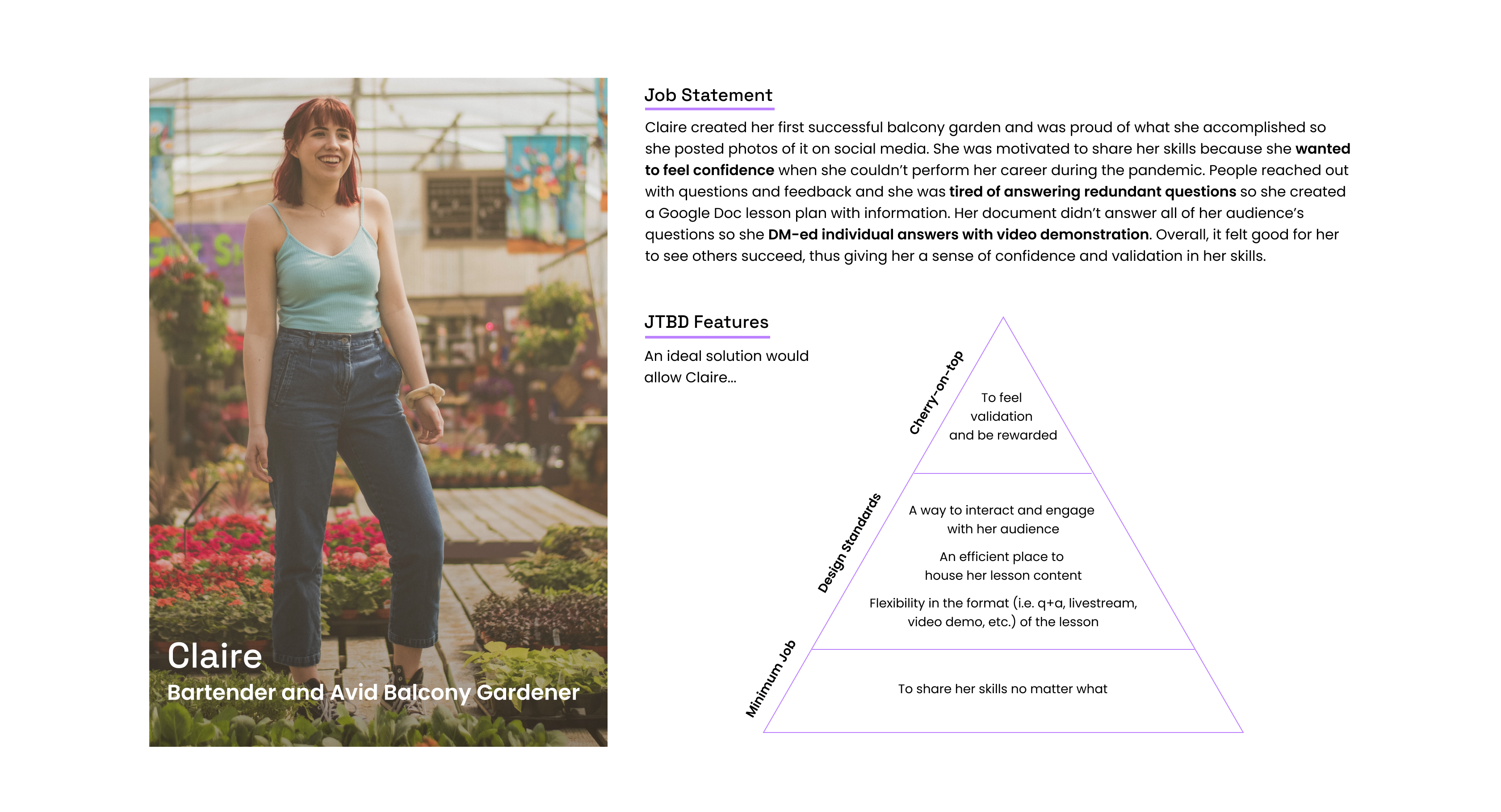 Based on Claire's jobs-to-be-done we began to ideate solutions within Forum that could address her pyramid of needs. Content sharing and user engagement were the two points of focus for our ideation, as we felt they were core to addressing Claire's job.

The lesson content sharing process should be easy, efficient, and give flexibility in the media to be posted. We explored existing design patterns and content sharing flows from other social media platforms. We brainstormed innovative ways to show the content, including a filtering system for topics, skill level, and difficulties. It was apparent that the typical profile feed that is sorted chronologically would not serve our skill-sharer's audience. In order to make specific content easier to find, we envisioned a modular profile where our skill-sharer could reorder her content tiles and group them in "series" by overarching topic.

To address user engagement, we created a smart live streaming feature called "Office Hours." Followers can submit questions for the sharer to answer during the stream. Similar questions would be grouped together with tags. This would help the skill-sharer address questions about similar topics with more efficiency. We would also allow the skill-sharer to address these questions in a text-based AMA or a live video stream to give flexibility in the format of the stream.

A wireflow for the Office Hours streaming concept we ended up putting into a usability test.
Branding
& UI Kit
Arranging the furniture of our digital space to make it as inviting as possible.


Building off of Forum's ethos of creating an accessible skill-sharing digital ecosystem, we looked toward simple, down-to-earth branding that could let our sharer's content speak for itself.

Our logo is inspired by the idea of our skill-sharing community building each other up and climbing upward toward professional and personal development

Usability Testing
We put up a lo-fi wireframe on Maze and conducted usability testing on the Office Hour feature. We prompted the test-takers with questions along with each screen throughout the testing and asked for their experience and thoughts at the end. Through the heat map and data generated by Maze, we were able to gather feedback on the functionality and concept and make revisions based on the testing results.
For our prototype, we wanted to focus on designing a couple of key flows derived from our job table—making a post and rearranging the content on the profile, as well as user engagement through our Office Hours concept.
Making a Post

From the profile, our sharer would click on the dashboard or have the option to add content to an existing series by sliding all the way to the end of it. In the posting screen, our user can also add their content to a series.

She has different options for how to display content: text-based, image, video, and infographic. In this case, she is choosing a pre-recorded video from her camera roll.

Voilà! The content is posted under the relevant series.

Modular Profile

We thought the chronological posting profile of many social media platforms would not be an efficient way of showing information. Therefore, we made the profile as customizable as possible. In this flow, our sharer moves a text-based post closer to the front.

Starting an Office Hours stream and text-based engagement

We brought our Office Hours feature into usability testing because of its relevance to the project and the innovation it represents. In this fully revised version, we show our her opening their office and going live for questions. Sharers can also schedule future streams to be displayed to their audience on their profile.

The Office Hours stream would open into view of all the sharer's messages. The first option would be to answer these in a text-based AMA-inspired view. She would click the question they were answering and type in her response.

Hosting an Office Hours video stream

To make this livestream as efficient as possible, we also included the option to host a live video or live audio-only stream. Here our sharer starts a live video stream. She would click the question she is currently answering in the video stream and swipe it to mark it as answered. The clip where she is addressing that specific question would then move over to the answered questions tab.


Closing the Office Hours stream

Once she is finished with her stream, she would have the option to close her office to go offline and then address the questions she didn't get to during the stream. If she didn't feel like taking the time to answer then, she would close the window and those messages would appear in her inbox to be addressed at a later time.

My biggest takeaway from this project was learning to pivot when your research indicates your assumed solution might be lacking. This is the point of UX, taking the opportunity to lend your ears to people who would use your platform in order to make your product sharper.

By empathizing with our interviewees I understood more about the reasons why and why not people share their abilities. In a digital world inundated by influencers, it can be difficult to feel like there is worth in what you can share. Sharing highly produced video content is a huge roadblock. Not to mention that from the learning perspective, quality lessons and skills can come with an enormous price tag.

Creating this app prototype encouraged me to dream about a more accessible social media space. A fully-realized version of Forum could create what the name implies: a digital nucleus where people have the chance to share their special skills with an engaged community.

Now, who wants to develop this with me? ︎