Problem solving how to make a bustling, cultural hotspot more accessible during the constraints of COVID-19.
Timeline: 4 Weeks, 150+ Hours
Role: Lead UX/UI Designer
Introduction
My favorite experience in the city is visiting Chinatown and crawling from restaurant to restaurant, feeling immersed in culture and eating delicious food. What if this experience was portrayed digitally?
The Chicago Chinatown Chamber of Commerce is a non-profit aimed at improving and expanding Chinatown's business opportunities while also educating others on the history and culture of the Chinese-American community. I was tasked with redesigning the website with the objective of improving the digital presence of their member businesses and better communicating the vibrancy of the historic neighborhood through a brand refresh.

*I am not affiliated with the Chinatown Chamber of Commerce directly, but have shared my work and insights from this project with them.
Research
If you are familiar with a city's Chinatown, you are familiar with vibrant sights, delicious smells, and lively sounds.
Since COVID-19 struck China at the beginning of last year, many Chinese American businesses have struggled. A representative from CCC estimates that at the beginning of the pandemic, business in Chinatown was down 90% or 80%, and that carry-out services were only able to boost business by about 30%.

My initial assumptions were that a lack of visibility to drive traffic to takeout and delivery offerings from the restaurants were negatively impacting business. My primary research goal was to determine the "how" in "how might we sustain Chinatown's businesses digitally." I dove into the problem space determined to identify the attitudes of business owners and customers before the onset of COVID-19, and how those attitudes have changed over the course of the pandemic.

To begin, I conducted a survey of about 20 people and interviewed two people one-on-one to understand their habits around visiting Chinatown. I also spoke to the owner of Chicago's oldest Chinese bakery, Joyce Chiu, to understand how customer behavior has shifted due to COVID.
Takeaways
These responses pointed to a few key insights: Visitors to Chinatown were drawn to the "escape" of the neighborhood, and often wandered around to find different spots. Additionally, 88% of my participants utilized word-of-mouth recommendations when trying new restaurants, second to searching online, showing a potential for greater digital presence from Chinatown businesses.

My conversation with Joyce reiterated that the business was struggling because of a greater lack of foot traffic during COVID:

︎︎︎"A LOT is different during COVID. People are no longer walking around and visiting so we can't rely on foot traffic. People are only going out when necessary. Buying behavior is a lot different."
—Joyce Chiu, owner of Chiu Quon Bakery
Definition
Knowing that visitors to Chinatown wander to discover business, and knowing that businesses are struggling due to a lack of this natural foot traffic during the pandemic, how might we enable a similar experience digitally?

To create sharp solutions, I spent a great deal of this project marinating in the problem space. Using a jobs-to-be-done approach and using Joyce's perspective and insights, I developed a persona to help me understand the varied needs of my key stakeholder—a CCCC member business owner named Jenny.
By dissecting Jenny's various jobs and understanding why she would choose to hire the CCCC website for, I ideated on several solutions.

The primary solution I brought into my wireframes was the idea of an interactive map that users could walk around in to recreate the experience of wandering and exploring the colorful storefronts of Chinatown.

Secondly, a reorganization of the site to highlight business profiles would make a more consistent digital presence for the business owners. The profiles would have CTAs for ordering takeout, pickup, and learning more about the business and menu.

Lastly, I developed a digital marketing initiative, dubbed the #takeoutchallenge where users could order bundles of curated meals from Chinatown to pick-up in one location. This would enable physical foot traffic to Chinatown, while keeping the risk of visiting multiple restaurants low.
The Brand
Modernizing the tradition of Chicago's Chinatown

Chinatown is arguably Chicago's most colorful neighborhood, and a modern rebrand that reflects that liveliness was in order. The color red is the national color of China and symbolizes good luck and success. Building from a red primary color palette, I chose contrasting colors that would pair nicely and help balance the red to keep it from being misinterpreted as error messaging. My typography choices were inspired by the playfulness and warmth of visiting Chinatown—the joyful heading typeface is paired with a legible sans serif that reads well on screen.
Logo

In an effort to simplify and modernize the logo for digital applications, I looked toward Chinese knotting techniques, the auspicious number 88, and an interweaving sense of community as inspiration points to redesign the existing logo.




My primary builds for the first prototype of this website were the homepage, an interactive map feature to discover businesses, and a more elaborate business profile page for members.
Homepage
• I consolidated the navigation to simplify the website from its former architecture.

• I shifted the focus of the site to make the interactive map easy to access and understand.

• A teaser and explanation of the #takeoutchallenge are clear from the front page.

• The goals of the CCCC are more strongly communicated from the homepage.


Interactive Map
• Users are encouraged to drop into the map to walk around and discover businesses. A map dashboard enables a key for users. Restaurants discovered along the way can be saved to your dashboard and shared for later reference.

• Badges show what restaurants are participating in the #takeoutchallenge in order for users to keep in mind that promotion while discovering new restaurants.


Business Profile

• Image galleries show off some featured menu items and business photos.

• Biographies give background on the history of the business.

• A dashboard gives easy access to key information like how to contact or order from the business.

• If the restaurant is participating in the #takeoutchallenge their offering is listed with a CTA to order.

I posted my prototype remotely through Maze and set out to test a few aspects of my design, primarily the recognition of the CTA for the interactive map and the usability of its interface. I also tested the efficacy in communicating the details of the #takeoutchallenge from the homepage.

My first version of the CTA for the interactive map did not offer enough contrast from the map illustration, 60% of users took my expected path through the entry point, while 40% of users clicked in the navigation or on the map illustration itself. Secondly, in the map interface, it was not clear how to get to street view and there was little visibility of the dashboard, with only 33.3% of users successfully opening it.

To remedy this I created more stand-out primary CTAs to draw users immediately to the map, while also improving the UX writing on the homepage and button to be clearer. Within the map interface I altered my prototype to have a more seamless drag and drop pattern to get to the street view. I also added wording for the map dashboard rather than just representing it with an arrow.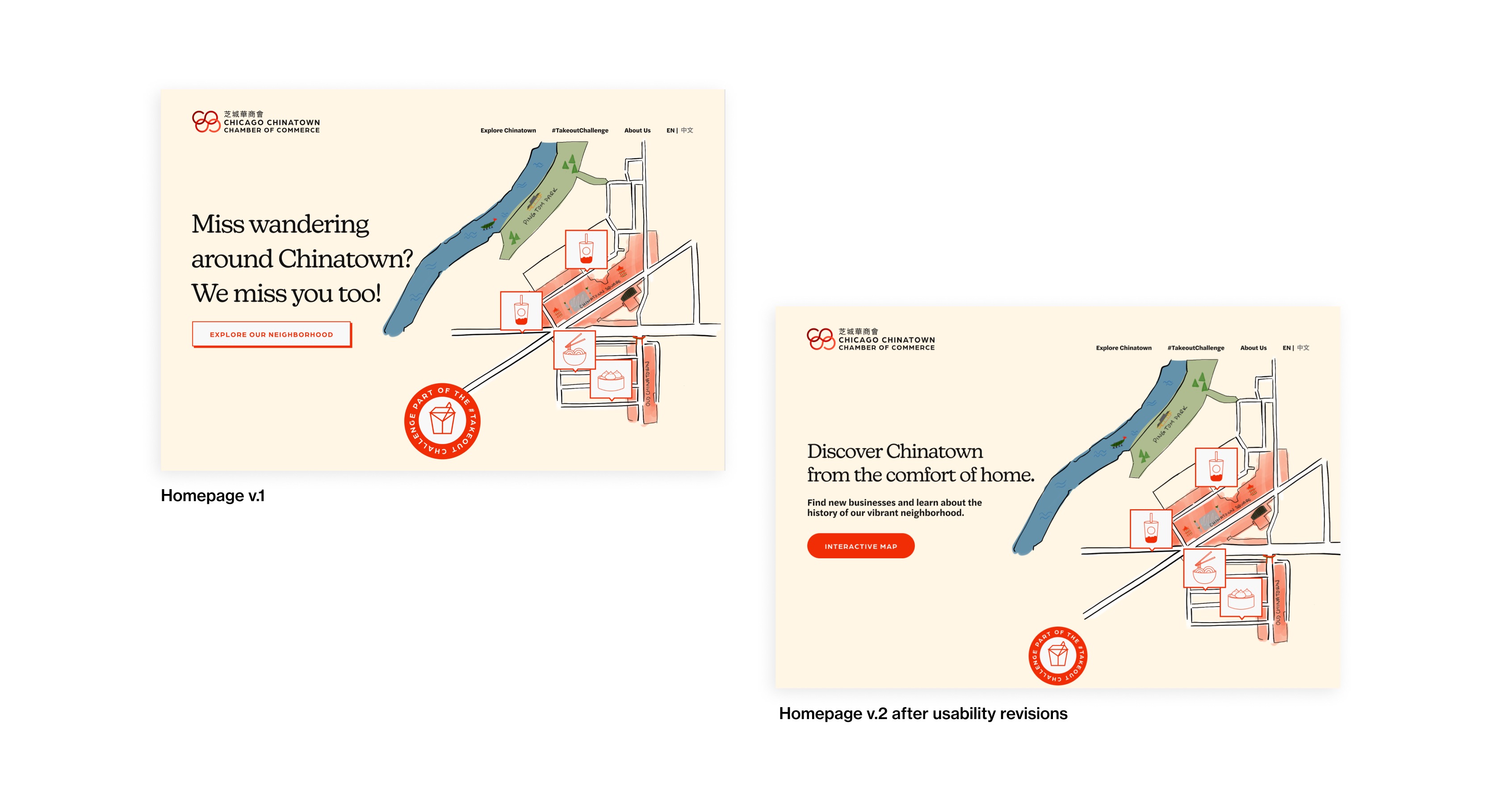 I was so happy to be able to dive deep into topics that I am very passionate about—my local Chinatown and supporting small businesses. I felt this was an opportunity to transcend the expectations of what a website redesign would entail—especially after being met with unexpected user insights about the feeling of "wandering" around and exploring Chinatown.

Overall, the map was an interesting concept to users. In further iterations and with unlimited access to the technology, I would have liked to make the map more interactive and create a more robust VR-like environment. In quarantine, I began watching walking videos around cities I had never been to like Tokyo and Shanghai, and I was surprised by how transported I was from the comfort of my couch. In an ideal scenario I would have loved to bring that level of fidelity to the rendering of my local Chinatown.